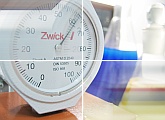 Compounds and dryblends are our specialty. Together with over twenty years of experience in the field, we provide:

high quality of our products,
professional and kind customer service and quick response to orders,
competitive prices and terms of payment,
technical service before and after sale and implementation of our products.
To meet those demands, we examine our products on up-to-date basis in our own laboratory as well as in accredited, external institute, and the qualifications of our staff are being constantly perfected.

The Quality System we have implemented, assures repeatibility of product properties, confirmed by quality certificate, and issued, based on internal and external quality examinations.

Raw materials and components used in production are ISO certified, and delivered by reputable, international producers of chemicals.

Our products are used in production of electric and electronic equipment, according to Directive 2002/95/EC of the European Parliament and of the Council of 27 January 2003 (RoHS Directive).